Parents
Parents, there is no higher calling than shaping and molding a child whom God has uniquely made you accountable for. Just like every other person, they are made in the image of God and God has given you the task of raising them up to fear and follow the Lord. Here at Oakwood we are serious about coming alongside you, as you fulfill this God-given mandate. This page will be a landing spot for you as you look for resources, equipping and events that will help you in this adventure called parenting.
---
Family Discipleship Resources
Is My Child Ready For Baptism?
Do you think your child is ready for the next step in their faith journey? Use this resource with your family to guide you through this special milestone in your child's life.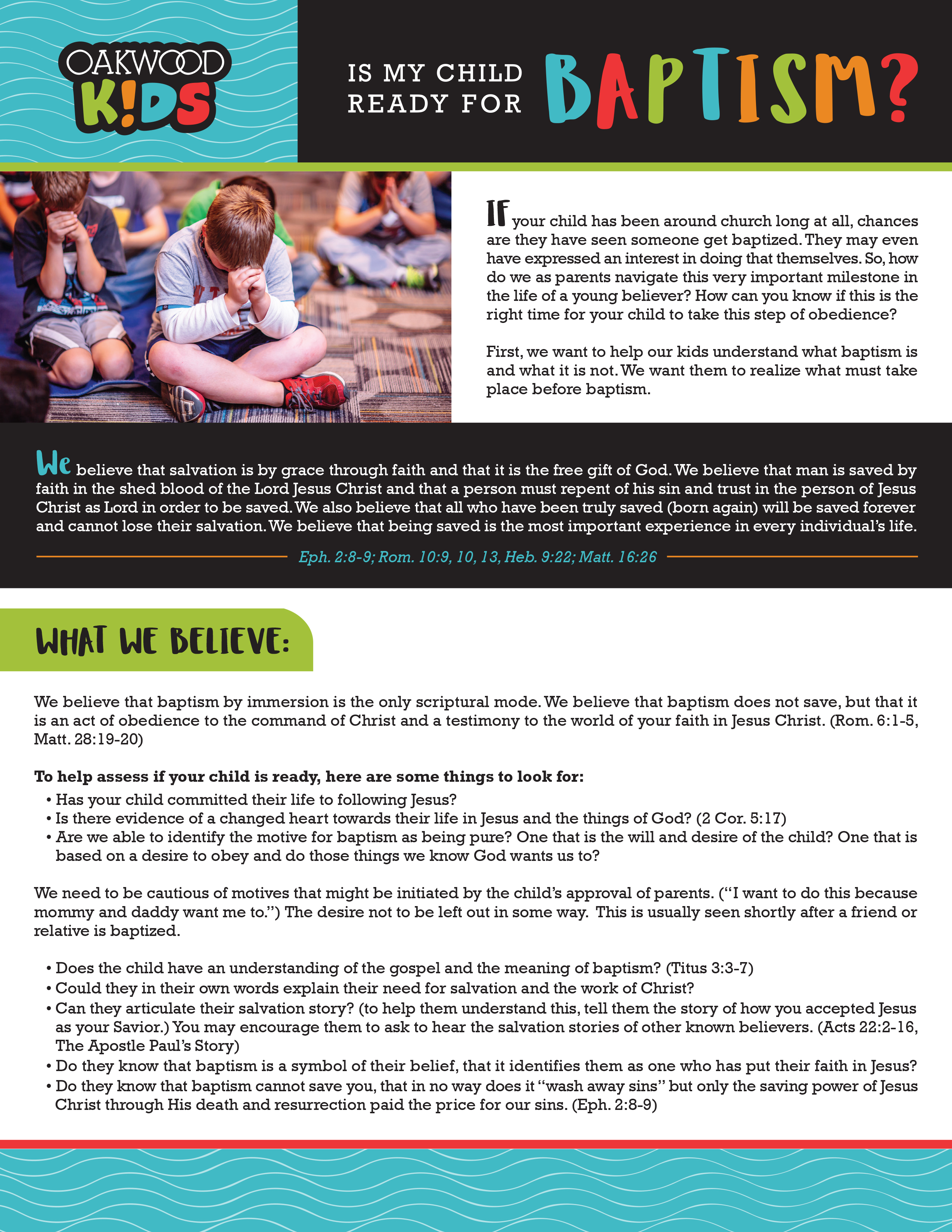 Pastor Picks
The Oakwood Kids staff each recommend a great resource your family can use to grow in your faith at home!
"Notes from Jesus is a fun to read book filled with lots of great truths. There are 26 easy to read truths of what Jesus wants all of us to know and understand about Him. Each page is filled with color, scripture and something new about Jesus. This really is a simple book to read and understand. It should be a must read for all children who desire to know Jesus better." Review by Children's Pastor - Jody Burkhalter
"The Donut Date Journal is a great tool for parents. Chap Bettis explains that a "donut date" is simply a time for a parent and a child to pull away from the rest of the family and enjoy intentional one-on-one time with each other. It is crucial for parents to make heart connections with each of their children. This book offers suggestions on how to start and provides a great list of questions to ask during your "donut date". If you are trying to be intentional with your parenting, the Donut Date Journal is a great place to start." Review by Children's Director - Patrick Simpson
"The Big Thoughts for Little Thinkers, The Trinity, introduces preschool and elementary children to the Trinity at a level they can understand. Colorful illustrations compliment every page, with easy to understand descriptions of who God is. The Trinity teaches the doctrine that there is one God who exists in three persons--Father, Son, and Holy Spirit. This teaching is foundational for a child's under- standing of God." Review by Preschool Director - Melissa Gleason
"You may have may wondered, "Am I being intentional with family?" This a book of encouragement to embrace who you are, and the family God has given you. It encourages you to rise above the noise and distractions that cry out for attention. To take the time to determine your family's core values and to live them out. Focusing our attention on our family and values allows us to put other things in perspective and live with intention so our family always gets the best of us. Parenting comes down to choosing between living with intention or living in reaction, choose to be an intentional parent." Review by Special Needs Director - Amy Rose
Family Audio Series
Go on an audio adventure that the whole family will enjoy!
This audio series shares 15 short stories about Jesus' final days on Earth, followed by discussion questions to lead your family further.

The people of Dewberry despise the Pie-Slinger Outlaws. However, one brave little boy does his part to share the true meaning of Christmas to even the most despicable of folks.
This is a story where a group of rebels who are banished by their king. But hope is coming! Ultimately this work of fiction points us to the greatest story every told.
A four part tale about a bear named Frank who learns the true meaning of Christmas.
Search and subscribe to "Oakwood Family Ministries" on any of these podcast apps: