Parents
Parents, there is no higher calling than shaping and molding a child whom God has uniquely made you accountable for. Just like every other person, they are made in the image of God and God has given you the task of raising them up to fear and follow the Lord. Here at Oakwood we are serious about coming alongside you, as you fulfill this God-given mandate. This page will be a landing spot for you as you look for resources, equipping and events that will help you in this adventure called parenting.
Growing Kids God's Way
The Growing Kids God's Way Series 5th edition (1996) was the first major parenting course written for the Christian community and has since served over two million households. While the years have passed, and fashions have changed, the principles contained within remain timeless. The curriculum serves parents of preschoolers through the middle years. Click here to learn more details and sign up for the next Growing Kids God's Way small group.
---
Resources
Is My Child Ready For Baptism?
Do you think your child is ready for the next step in their faith journey? Use this resource with your family to guide you through this special milestone in your child's life.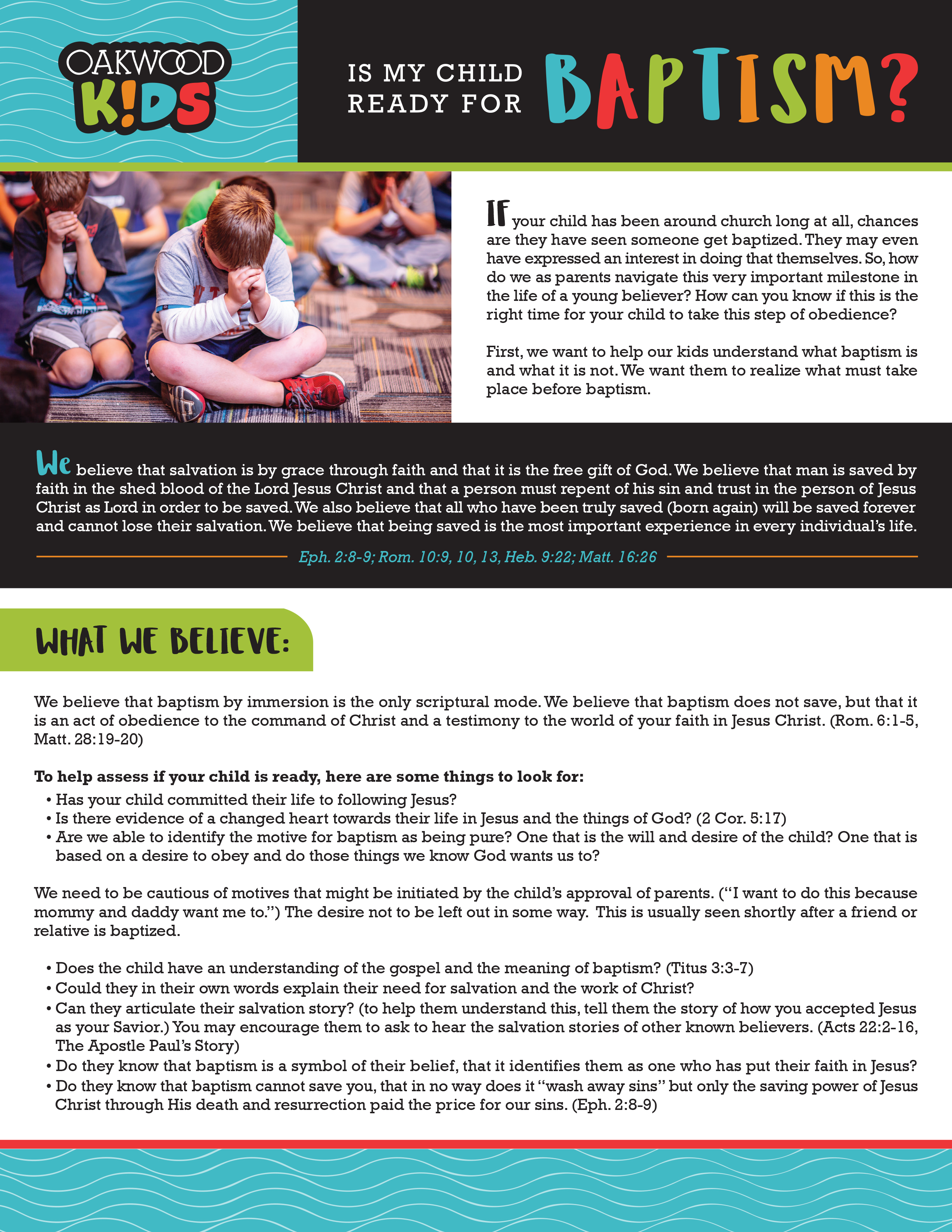 Pastor Picks
The Oakwood Kids staff each recommend a great resource your family can use to grow in your faith at home!
"Clint Rutledge and myself got together a few years ago to create a guide for parents as they try to navigate some of the more tricky milestones of parenting - Questioning Faith, Conversation Helps, the Internet, Social Media, Entertainment & Sexuality. We have seen how challenging these areas can be as parents ourselves. This guide we also give you a template to come up with a plan of attack as you encounter these different "rapids" facing our families as we try to parent with grace and truth. Pick up a free copy while supplies last!" Review by Family Ministry Pastor - Robert Parrish
"God's Big Plans for Me Storybook Bible is 40 chronological Bible stories that lay out Biblical Principles for young readers that are inspired by Pastor Rick Warren's the Purpose driven Life. This book is fun and easy to read. It has creative and colorful drawings to illustrate each story. Each daily reading ends with three things for families to consider. A thought to ponder, a scripture to help us remember the truth, and a question to help us make a life application of the truth. This is a short and easy book to process through in forty days. The value of this book is it helps readers of all ages think about what God wants us to be doing with the life He has so generously given to each of us." Review by Children's Pastor - Jody Burkhalter
"Your children are not too young to study theology. "Theology is simply the study of God... The Ology is a multilayered educational resource for grade school children." Families that read The Ology together will come to find this book as a resource they will continue to come back to over and over. Families can either read the book straight through or talk about different topics that come from children's questions. The illustrations will keep them engaged and the countless Scripture references show that everything taught from this book comes straight from the Bible." Review by Children's Director - Patrick Simpson
"Time is always moving. We can't slow it down. We can't stop it. We can't reverse it. But if we aren't careful, we can miss it. When it comes to the lives of the children and teenagers growing up around us, they are changing faster than we realize. The phase they are in now, won't be around forever. And with every phase comes distinctive opportunities we can leverage to influence their future as long as we don't miss it. Sometimes we need a reminder to pause and lean into their world." Review by Preschool Director - Melissa Gleason
"The King's Invitation is a storybook written by one of our very own church members', Katie Simpson, who also happens to be the wife of our Children's Director, Patrick Simpson. This is a spectacular story that teaches readers that God, our King, has invited us to be a part of His Kingdom! But sometimes we get stuck on the journey thinking we are not good enough and have to do all these things before we can be with the King. However, there is great news! God doesn't want us to wait, He is waiting with open arms and all we need to do is run freely to Him without hesitation." Review by Special Needs Director - Amy Rose
Family Audio Series
Go on an audio adventure that the whole family will enjoy!

The people of Dewberry despise the Pie-Slinger Outlaws. However, one brave little boy does his part to share the true meaning of Christmas to even the most despicable of folks.
This is a story where a group of rebels who are banished by their king. But hope is coming! Ultimately this work of fiction points us to the greatest story every told.
A four part tale about a bear named Frank who learns the true meaning of Christmas.
Search and subscribe to "Oakwood Family Ministries" on any of these podcast apps: