Oakwood Kids
Oakwood Kids exists to disciple kids to be fully devoted followers of Jesus and equip parents to do the same.
First time? Click on one of the ministries provided by Oakwood Kids to learn more.
---
Parent Resources
Is My Child Ready For Baptism?
Do you think your child is ready for the next step in their faith journey? Use this resource with your family to guide you through this special milestone in your child's life.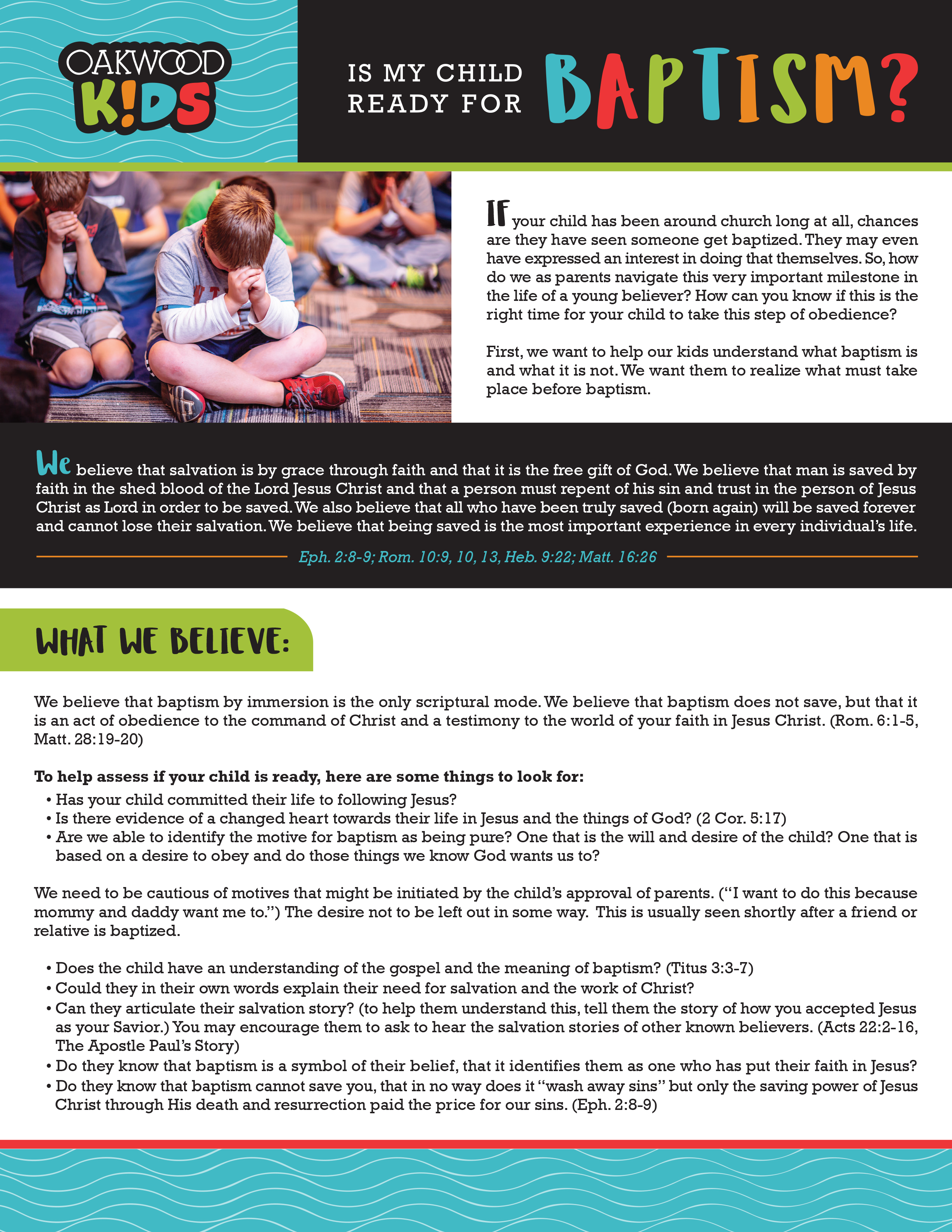 Pastor Picks
The Oakwood Kids staff each recommend a great resource your family can use to grow in your faith at home!
"There are several things I love about this family devotional. It encourages Bible reading and accurately explains central Biblical truths. It gives memory verses, questions for both parents and kids to ask and a fun activity. But it is not too daunting. One lesson a week that only takes about 10 minutes if you don't include the activity and Scripture memory. Life is busy for families and we often give up leading a Bible study with our family because it is too much. This book solves all your problems." Review by Family Ministry Pastor - Robert Parrish
"This book does an amazing job of focusing on the character of God. In today's society where things are easily confused, blurred, and marginalized, this book clearly helps its readers know who God is and the fact that his character never changes. Each day this books gives you a Name of God, tells an amazing Bible story that points to who God is or what He does, gives a short devotion, a key take-away, an explanation of what all this means for the reader, a prayer and suggestions to learn more. This should be a must read for all families. Because the truth of who He is, affects who we are and how we ought to live." Review by Children's Pastor - Jody Burkhalter
"DON"T JUDGE THIS BOOK BY ITS SIZE! Though this is the size of a textbook, this is something you want to make time for with your family. All you need is 10 minutes! Long Story Short is a family devotional designed to explain God's plan of salvation from Genesis through Revelation. This book is easy to adapt and change so everyone in the family can get something out of it. Volume 1 covers the Old Testament while Volume 2, the New. In three years' time, your family will have traveled through the entire Bible, keeping your minds and heart pointed to the central message; the Gospel of Jesus Christ." Review by Children's Director - Patrick Simpson
"The Lift the Flap Bible is a great introduction to timeless stories from the Old and New Testament. Not only are the illustrations wonderful but the shorter-version stories capture the attention of adults and children alike. With flaps to open on every page, a child will see as well as hear God's Word and have a fantastic time discovering hidden pictures that go with each story. Preschoolers will listen as you read the stories and wait with anticipation until they can open a flap! This book will be a favorite!" Review by Preschool Director - Melissa Gleason
"This is a must have tool for your parenting toolbox. As believers we must teach our children to turn to God's Word and apply it to their lives. This book will help guide and equip you to do just that! It can be used as a reference for teachable moments and to help facilitate discussions with your child related to things they are going through, or when they ask questions like, "What does God say about..." Each topic has many applicable bible verses, discussion questions, action steps, and parenting tips, all of which are easily adaptable to any age. You will teach your children to turn to God's Word for all of life's questions." Review by Special Needs Director - Amy Rose
Family Audio Series
Go on an audio adventure that the whole family will enjoy!
This is a story where a group of rebels who are banished by their king. But hope is coming! Ultimately this work of fiction points us to the greatest story every told.
A four part tale about a bear named Frank who learns the true meaning of Christmas.
Search and subscribe to "Oakwood Family Ministries" on any of these podcast apps: