Oakwood Kids
Oakwood Kids exists to disciple kids to be fully devoted followers of Jesus and equip parents to do the same.
---
Oakwood Kids Sunday Morning Small Groups Returning
Families no longer need to register their child online before attending.
BLASTOFF - Mid-week Family Resource
Welcome to Blastoff! This weekly video will equip your family with the Oakwood Kids memory verse for the week and other fun ideas to help your family "Build Lives Around Scripture and Truth". After you watch the video together we encourage your family to memorize the verse, play the game, and complete the weekly challenge!



Our memory verse for this week is: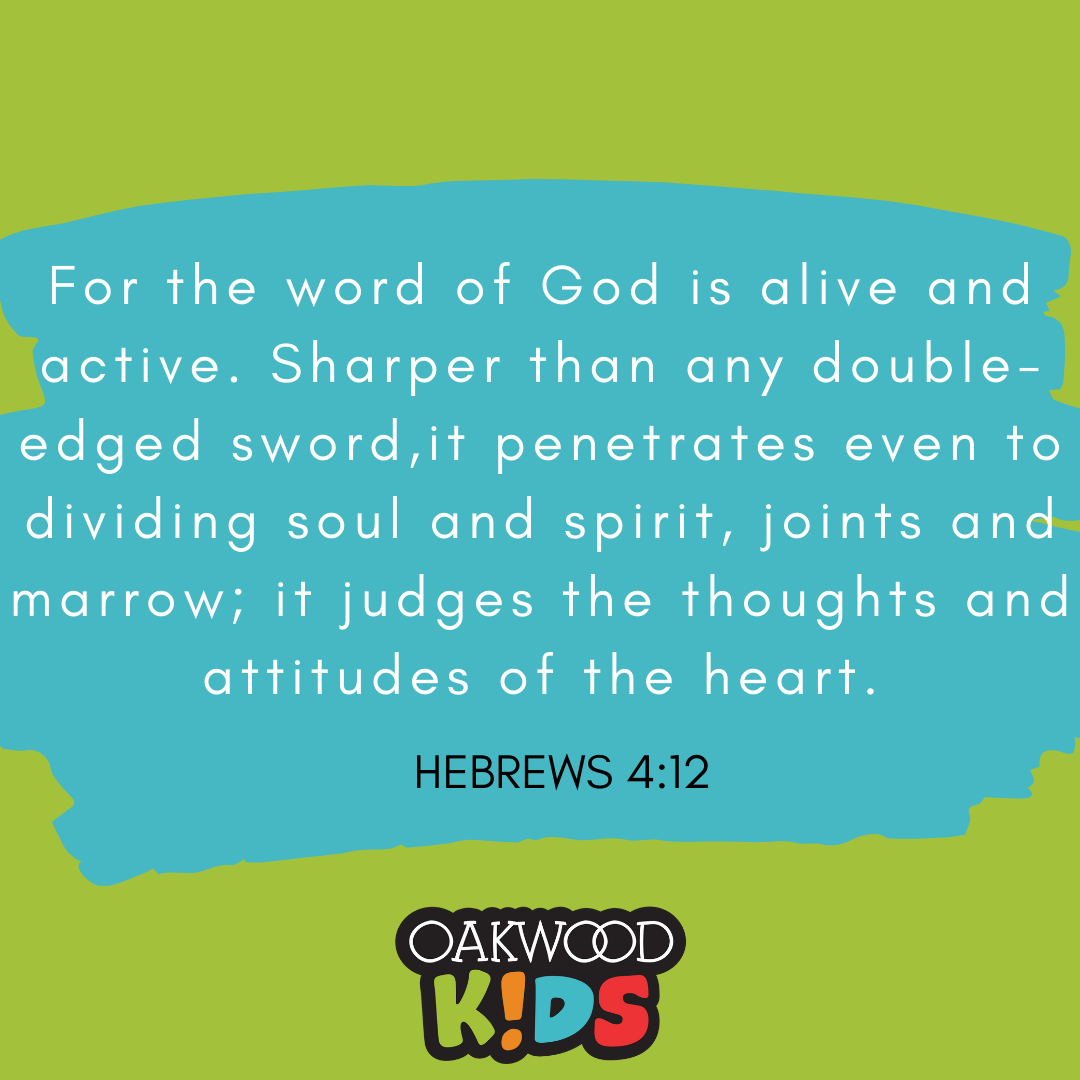 Sunday Mornings Online - Preschool
Welcome to our online lesson for preschool children, Treehouse at Home! Treehouse at Home is an online experience that will allow your preschool child to engage with a lesson that can be enjoyed together, right in your living room! We hope you will join Mrs. Angela, Mrs. Susan, Mrs. Courtney & Mrs. Sarabeth as we say our pledges, dance together, sing praises to Jesus, and learn more about God's Word together.
I'm continuing to pray that you feel God's love and presence in your homes this week and always. Please feel welcome to contact me anytime if I can help you with anything or pray with you about something specific.

Angela Corbell
Preschool Ministry Director
"Start children off on the way they should go, and even when they are old they will not turn from it." Proverbs 22:6
Sunday Mornings Online - Kinder-5th Grade
Welcome to Outlet Online! The Outlet Online Experience will offer your Kinder-5th grade child an engaging lesson that can be enjoyed right in your living room! We hope you will join Pastor Patrick, Pastor Jody, and Mrs. Brenda as we worship, play games, and learn more about God's Word together.
Here is a snapshot of the lesson details for this week:
BIG IDEA: God wants us to work together to build His kingdom.
BIBLE BASIS: Book of Nehemiah
KEY VERSE: "Two people are better than one. They can help each other in everything they do." Ecclesiastes 4:9 (NIrV)
After watching Outlet Online, your children can use the attached Go! Home Guide to help dive deeper into the lesson:
Patrick Simpson
Children's Pastor
---
Have your kids lead the family in worship while parents learn the songs we sing in the Outlet every Sunday and Wednesday by Seeds Family Worship! Watch their videos on YouTube or stream their music from Spotify by clicking on the links below.
Seeds Family Worship videos on YouTube
Seeds Family Worship on Spotify
Here are all of the worship videos we use for Outlet Online! Click below and let your children worship alongside Mrs. Brenda any time they'd like!
---