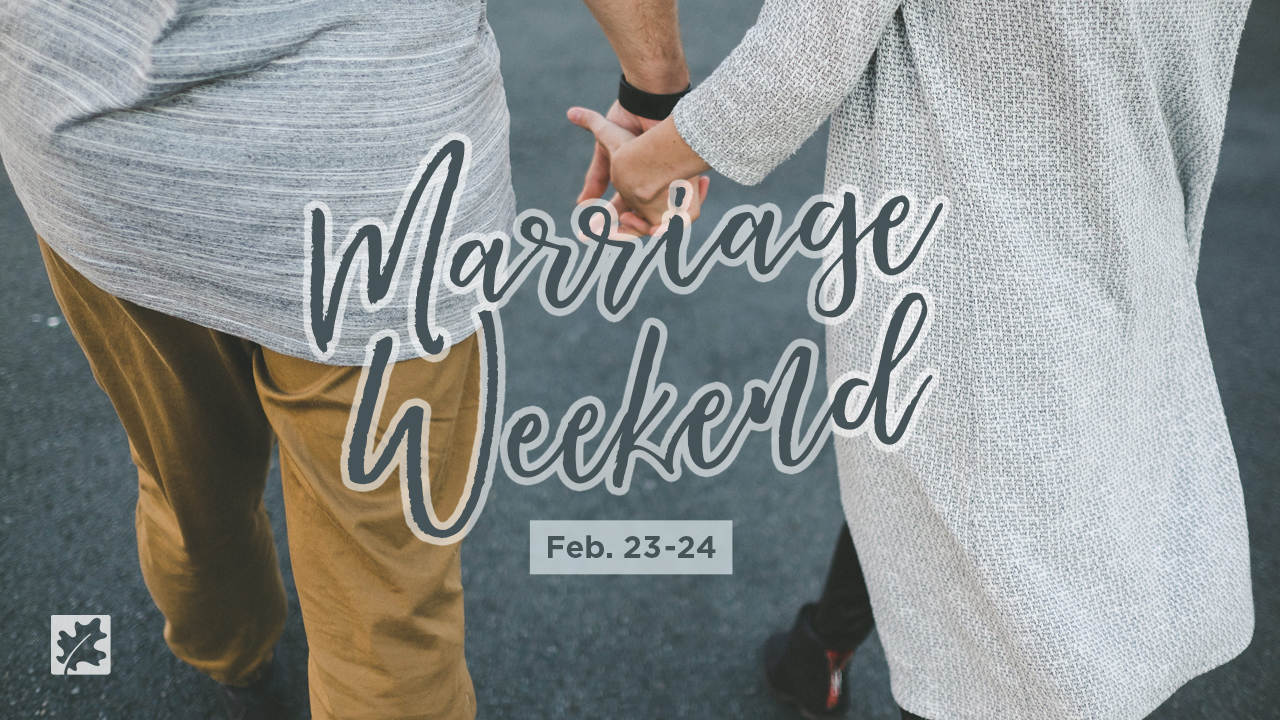 Friday, February 23, 2018, 7:00 PM - Saturday, February 24, 2018, 12:00 PM
In the covenant of marriage God has joined us together for as long as we both shall live. Sadly this vow that is so easily spoken on day one is much more difficult to keep down the road. And even if we remained joined together that doesn't guarantee that we will thrive in oneness with our spouse. That is why we need to be vigilant when it comes to our marriages. We need to be like a watchman in a tower diligently fixing his eyes on any potential threats to the city. On Feb 23 & 24 make the investment in your marriage to continue on the path of marriage the way God designed it. God's design is not merely for us to survive in our marriages but thrive in them. Let's learn to thrive together.
SPEAKER - DUDLEY CALLISON
Dudley has served in a number of organizations and in various roles throughout the years. He particularly enjoys helping organizations move toward their original vision by creating strategies that activate their great ideas. He is an Ordained Baptist minister, and a Licensed Professional Counselor. He has served twice with a ministry that helps parents and teens sort through difficult family relationships. Dudley led a campus ministry at Baylor, reaching over 1,000 students weekly. He also served on staff at First Woodway Baptist church in Waco, TX, as the Associate Pastor for Lay Mobilization and Discipleship.
With Communitas (CA back then), Dudley served as Chief Operating Officer for five years before being hired into the President role in April 2013. Dudley now serves Communitas with a dynamic team of missionary pioneers who are re-imagining the way we plant churches in our post-Christian world. Together, they seek to inspire a host of Christians to grow into a life that demonstrates God's love, and that extends salvation to many in extraordinary ways. As more and more people come to faith in Christ, we hope to establish vibrant churches throughout the cities of Europe, North America and Latin America.
Dudley and Laura live in scenic Denver, Colorado with their daughters, Molly and Claire, and their beloved pet Barkley. Though they have lived many places over the years, they still claim the Republic of Texas as their true home. Together they enjoy hiking, riding bikes, roasting marshmallows, and lots of time spent with friends.
WORSHIP - SHANE & SHANE
Shane & Shane is a Texas-based, contemporary worship music band known for acoustic praise and worship music. The band consists of Shane Barnard and Shane Everett.
After more than a decade of relentless touring, where the duo played everywhere from the college circuit to worship arenas to far-flung places, Shane & Shane have shifted the focus of their ministry. Rather than cramming as many dates on the calendar as demand will allow, the dynamic praise & worship duo—known for their celebrated guitar work and trademark harmonies—are pouring their lives into others, discipling musicians and training them in their craft. This new pursuit is known as the Worship Initiative.
ENTERTAINMENT - DREW WORSHAM
Drew Worsham is an accomplished mentalist, illusionist, magician. He is a pastor and a public speaker. Drew travels around the country and occasionally overseas performing using illusions and magic to draw people in to hear the story of Jesus. When he's not on the road, he loves discipling college students and young adults in San Antonio at Community Bible church, reading books, and experimenting with candle-making.
SCHEDULE
Friday – Feb 23rd
Session 1
7:00 – 8:00 pm Drew Worsham - Illusionist
8:00 - 8:25 pm Break (dessert and give-a-ways)
8:25 – 8:50 pm Shane & Shane – Worship
8:50 – 9:25 pm Dudley Callison – Speaker
Saturday – Feb 24th
Session 2
9:00 – 9:10 am Drew Worsham
9:00 – 9:40 am Shane & Shane
9:40 – 10:10 am Dudley Callison
10:10 – 10:30 am Break (snacks and give-a-ways)
Session 3
10:30 – 10:40 am Drew Worsham
10:40 – 11:10 am Shane & Shane
11:10 – 11:45 am Dudley Callison
*snacks will be provided throughout the conference but NO meals
**childcare is not available
For any questions please contact Robert Parrish at